5 MISTAKES COMPANIES MAKE ON LINKEDIN
August 23, 2021
Posted by:

shailendra

Category:

Blog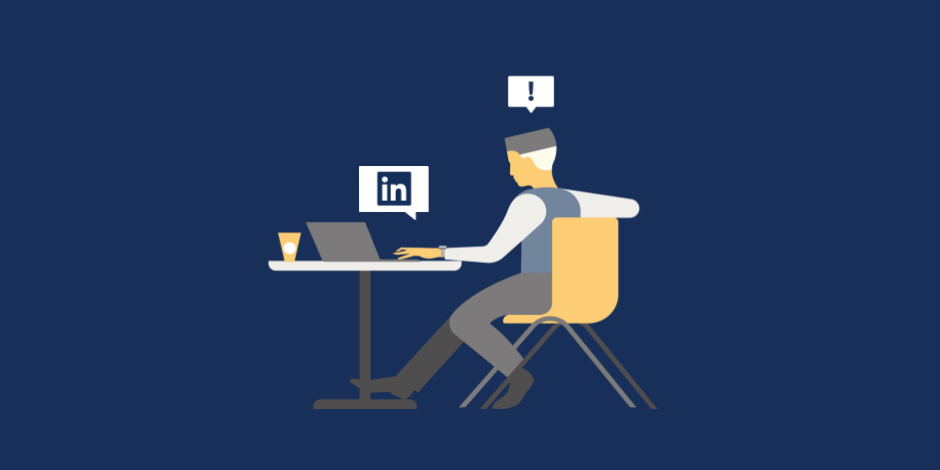 A LinkedIn company profile not only allows you to network and prospect for excellent sales leads, but it also develops your reputation as a respectable and trustworthy corporation on a worldwide scale.
Although many people think of LinkedIn as a site for job seekers and expanding your professional network, it can also be used to generate new business leads and nurture existing ones.
A Linkedin company page allows you to convey your firm's narrative, connect with followers, offer job openings, and scale your word-of-mouth marketing.
LinkedIn is the primary social media network for approximately 41% of B2B marketers, and it is where about 80% of B2B prospects are produced. The most popular professional social networking site is also where 43% of marketers find their clients. Furthermore, approximately half of LinkedIn users are more inclined to buy from companies they have interacted with on the platform.
Given LinkedIn's beneficial influence on B2B marketing and branding efforts, it's critical to understand how to use the site effectively while avoiding typical pitfalls.
Failing at optimizing your company profile
It is advisable to optimise your company page. This is the first place visitors go to learn about your company, product, service, or even job openings. If consumers can't locate the information they need right away, they'll almost certainly abandon your page and seek it elsewhere.
Make effective use of target keywords, a combination of vital marketing and investor information, and mobile optimization strategies on your LinkedIn company page. Like every marketing touchpoint, your page should clearly define your brand, why you exist, and what makes you unique.
Ignoring Employee Engagement / Company Culture posts
Before you turn to the outside world for assistance in spreading the word about your firm, start with your own workers. They may and should be the most vocal supporters of your business, helping to increase engagement, visibility, and, most importantly, establishing a sense of trust and authority. Paying no attention to this resource group, on the other hand, may reflect negatively on your capacity to utilise your internal assets.
To increase traffic to your site, broaden your market reach, or get more leads and followers, you may utilise LinkedIn or other third-party solutions to make it simple for your workers to promote your brand or content.
Choose social media platforms that work best for your products/services and curate content accordingly. The tone of the message is crucial as it helps to reach the right audience at the right time. For Instagram and Facebook, it is best to use informal posts but for platforms like Linkedin, keep it as formal as possible.
To this day, LinkedIn is the greatest B2B social media network, therefore it only makes sense to build a marketing plan tailored to LinkedIn members.
When it comes to uploading your material, you should be aware of the best time and frequency to do so. This is to guarantee that the material you provide on the platform is effective in engaging your audience or garnering leads and possible sales.
You may use LinkedIn to market your product, service, or company, which is OK, but you should never go overboard. Instead of concentrating on your brand, you should think about your audience first. Avoid providing promotional updates or sales pitches since you can be certain they will not be received well by your target audience.
Always make it a mission to satisfy your audience's needs and interests while creating or distributing information. This sort of interaction is also a good method to get new LinkedIn followers. People will start to trust you and talk about your brand more as time goes on.
Linkedin is a great platform to connect with like-minded professionals. Businesses must strategically approach professionals for mutual benefits.
While connecting with other Linkedin members, we must consider a few points:
It may be tempting to send as many LinkedIn connection requests as possible to build your network, but you won't get the results you want until you take the time to customise your message.
Receiving a connection request from a LinkedIn user does not provide you permission to send them random, unrelated messages that aren't worth their time or attention.
Hard selling to someone who doesn't know you or what your firm has to offer, for example, isn't a good idea. Instead, focus your efforts on getting to know them — their interests, hobbies, objectives, and difficulties – to determine whether or not you can genuinely assist them.
To conclude, LinkedIn may be a wonderful B2B marketing platform for developing relationships with your target market if you use the proper technique. If you wish to learn more about optimizing your portfolio on Linkedin to connect with recruiters and employers, we can help you.
To know more, kindly visit www.arshconsulting.com